Article published in The Mirror, 29 August 2016. © Richard Kemp
It is not possible for anyone to contribute more to our country than those who are killed fighting for us. After too many years of official neglect, this ultimate sacrifice was recognized when the Queen instituted the Elizabeth Cross in 2009, following a long campaign by the Daily Mirror in the face of staunch opposition from the military hierarchy.
The Mirror's campaign, which I was honoured to lead, demanded official recognition for our soldiers who were wounded as well as those killed in action. This was overwhelmingly supported by the public, politicians and serving and retired soldiers from private to field marshal, including men who had fought in both world wars. But it was roundly rejected by the top brass who didn't want to be 'like the Americans' with their Purple Heart. The Purple Heart – awarded to wounded US servicemen and the families of those who die from their wounds – is America's oldest and most revered medal.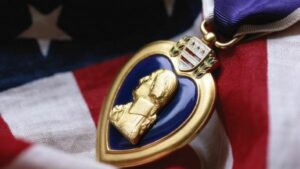 We must now have our own Purple Heart to recognize the sacrifice made by British soldiers severely wounded fighting for our country. During recent campaigns in Northern Ireland, Iraq and Afghanistan, large numbers of our troops lost limbs, were emasculated, burned, blinded, deafened, torn apart and brain damaged. According to an MOD report published last week, a total of 1,982 troops suffered traumatic wounding in Afghanistan alone. For many, their lives and their families' lives have been shattered forever.
Of course the most important thing is that these men and women receive proper medical care and financial support and if necessary are looked after for the rest of their days. But it is also time we awarded them a medal to let them know how grateful we are for the suffering they have endured – and continue to endure – for our safety and security.
I have been deeply moved by the many young wounded soldiers who have shared with me just how much recognition by the nation would mean to them. Who will look into the eyes of a courageous 18-year-old soldier who has had his legs blown off in battle and tell him that his sacrifice is not worthy of his country's gratitude?