Article published by Ynetnews.com, 28 May 2023. © Richard Kemp
It could almost have been a Nuremberg rally from the 1930s. Thousands of hero-worshipping Germans cheering fervently as a strutting figure in Nazi-like attire brandishing a mocked-up Schmeisser machine pistol took to the stage in Berlin this week.
Not content with the hateful symbology of the Third Reich, superannuated British rock star Roger Waters heaped on his characteristic anti-Jewish invective with messages outrageously comparing the Palestinian journalist Shireen Abu Akleh to Holocaust victim Anne Frank in order to demonize the Jewish state.
This is archetypal antisemitism, as spelt out in the International Holocaust Remembrance Alliance's widely accepted definition: the branding of Jews as Nazis; or specifically, 'drawing comparisons of contemporary Israeli policy to that of the Nazis'.
Waters' deliberate implication was that Jews murdered Abu Akleh as Nazis murdered Anne Frank. The fact is that nobody knows whether Abu Akleh was the victim of IDF or Palestinian terrorist bullets. And indeed if it was the former it would certainly have been accidental, the farthest possible cry from the calculated way Anne Frank met her end at the hands of the German killing industry.
In every way, the circumstances of the two women's deaths were utterly different and only a hate-filled rabble-rousing propagandist could dream up any comparison. Abu Akleh clearly did not deserve to die, but she went to Jenin of her own volition and in search of violence, whereas Anne Frank hardly volunteered to spend two years hidden in an attic in Amsterdam, in daily fear for her life, before making her final journey to Belsen.
Waters of course has a long and vitriol-fueled track record of Jew-baiting and Israel-bashing. Magistrates in Frankfurt who tried to ban his concert there accused him of being 'one of the most widely known antisemites in the world'.
He takes every possible opportunity to spread lies and distortions about Israel and uses a massive media platform to amplify his prejudiced and defamatory message. As the BBC reported, he 'has also floated an inflatable pig marked with the Star of David at his concerts'.
Not content with his own petty boycott of Israel (although I doubt many Israelis would want to see him there anyway) he has been aggressive in trying to persuade other performers to keep away and then publicly vilified those who treat his admonitions with the contempt they deserve. That includes the Rolling Stones.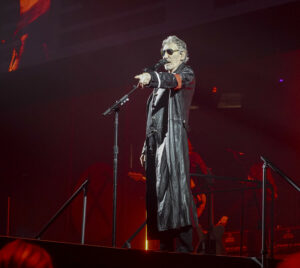 I was there when Mick Jagger and Keith Richards defied Waters by making their Holy Land debut at HaYarkon Park in Tel Aviv a few years ago — the Israelis loved them and it was plain to see they loved the Israelis. Waters must have been furious.
Waters denies being antisemitic, professing instead to be a defender of freedom and human rights. He blames the 'Israel lobby' for the complaints against him. It seems he has been taking lessons from Jeremy Corbyn who made exactly the same claims while dragging his Labour Party into its darkest depths of antisemitism and was later expelled for refusing to accept the damning findings of an inquiry into the party's bigotry.
In another echo of Corbyn, Waters, the self-styled 'anti-fascist', has openly justified the actions of Vladimir Putin's Russia, the nearest thing we have in Europe to fascism today, with its internal repression, imprisonment of dissidents, stranglehold on the press, wars of aggression, lust for Lebensraum, torture chambers, killing centers, mass graves and industrial scale child abduction.
In a speech at the UN in February, at Russia's invitation, he claimed that Putin's invasion of Ukraine had been 'provoked' by the West, and after the invasion berated President Volodymyr Zelensky's wife in an open letter, telling her that 'extreme nationalists' in Ukraine 'have set your country on the path to this disastrous war'.
Waters's craven justification of the Russian war, as well as his antisemitic stance, have been met with publicly expressed contempt even by members of his former band.
I suspect Waters's father, too, would have found his son's behaviour contemptible. Eric Waters, having originally secured exemption from compulsory military service as a conscientious objector, went on to voluntarily put his life on the line to fight Nazism as an infantryman in the Royal Fusiliers. He was killed in action at Anzio in 1944.
There is another aspect to Waters's Nazi-cloaked charade in Berlin that is perhaps even more chilling than his own fanatical actions. Aside from the cheering crowds and brown-shirted Nazi helmet-wearing stooges escorting him on stage, all of the Third Reich insignia and jumbotron messaging at the arena were designed, known, approved and put together in advance by others. It involved the carefully planned effort of many people. Nobody said anything or stopped it.
Here there is a worrying comparison with the cartoonist Martin Rowson's blatant and virulent antisemitic portrayal of outgoing BBC Chairman Richard Sharp in the Guardian a few days ago. The image did not flow directly from his paintbrush to the printed page. It had to make its way systematically through subeditors, proofreaders, printsetters and even the editor himself. Again, nobody said anything.
This in an age when speakers are banned from universities by student unions, comedy shows cancelled by theatre staff and books withdrawn from publishers' lists at the demand of junior employees — all for the slightest self-defined transgression against their wokeist glare.
Jew hate, though, appears now to have become so deeply entrenched in so many parts of our academic, political, media, music and arts institutions that those who take professional offence at pretty much everything else see nothing at all wrong in it.