Royals must honour the fallen of our forgotten Middle East war
Article published in The Times, 9 December 2015. © Richard Kemp
No fewer than 16,000 British and Commonwealth troops died during the Palestine campaign in the First World War and are buried in the land where they fell. Yet a long-standing Foreign Office ban on royal visits to Israel looks likely to deny these men the honour that has been afforded to British soldiers killed in Europe, Gallipoli and other theatres of war during the centenary years. This policy must be overturned now to ensure their sacrifice is properly recognised.
Ninety-eight years ago today, on December 9, 1917, the Ottoman governor of Jerusalem surrendered the Holy City to General Sir Edmund Allenby's Egyptian Expeditionary Force at the end of a bloody battle against the Turks that began on November 17.
The Palestine campaign has received little attention during the First World War commemorations, but was the second largest British theatre of operations in terms of strength of forces, with troops from Britain, Australia, New Zealand and India. It achieved the first defeat of a central power in the war.
British Empire forces sustained 554,828 casualties during the campaign, including 16,000 dead. At the Jerusalem War Cemetery on Mount Scopus this year I visited the graves of two of them, Edwin Beard and Leonard Frost, both boys from my school, Colchester Royal Grammar. It saddened me to think that the British Foreign Office is ready to deny these British soldiers the honour they deserve.
There are 2,415 graves in this cemetery as well as the Jerusalem Memorial, which commemorates another 3,300 troops who have no known grave. This is the place that should be the focus of the centenary commemorations of our servicemen who died in that campaign, preferably in December 2017.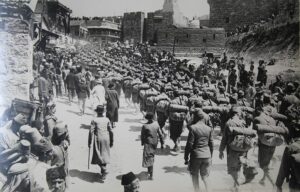 There must be senior royal representation at this event. The prime minister has a duty to overrule the Foreign Office, whose ban has been in place since 1948. It is a petty, malicious and unwritten protocol, not applied elsewhere, that is intended to show disapproval of Israel's policies.
The Prince of Wales and Prince Harry were present at Gallipoli in April this year. How would the government explain a decision to refuse to honour in the same way the memories of their comrades-in-arms who died for the Crown in Palestine?